Vintage 1998 Budweiser "We Could've Been Huge" Breweriana Beach Towel Wall Art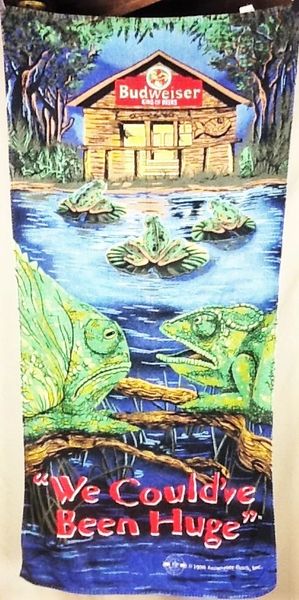 Vintage 1998 Budweiser "We Could've Been Huge" Breweriana Beach Towel Wall Art
Description
For sale is a 1998 Budweiser "we could've been huge" graphic beach towel wall art made by Anheuser-Busch. This beach towel is in good condition without staining or fraying and the colors and graphics are very bright.
Brand: Anheuser-Busch
Color: Blue /Green
Issues: None
Measurements:
Length: 56"
Width: 28"
- We offer free shipping anywhere in the U.S.A.
- Make offers on anything you see!
- Returns accepted…
Click here for further information
Click on the links below to follow us on social media!
Like to haggle?
Reviews